Search by Listing ID
Find Trades
Search our listings for trade:
Other Criteria?
Are you only looking for properties with this creteria?
Owned free & clear
With owner financing

...only from sellers who are:
Downsizing
Upsizing

Only looking for these types of properties?
Beach
Desert
Equestrian
Golf
Mountains
Rural
Urban
Waterfront
Waterview

Enter keywords to limit results.
Fewer options = more ads
All fields are optional, click "Find Matches" to begin search. Try quick search?
Choose property type and location then click find matches to view properties available for trade.
Leave options in the orange "I'm offering..." box blank IF you wish for the search results NOT to be constrained by the type of property you have.
Perform a 2-way search and view who has what you want and wants what you have
2-way search

My Residential


My Land


My Multifamily/Commercial


My Business


My Transportation


My Aircraft


My Sailboat


My Yacht


My Vacation or Timeshare


in My:
Leave the options in the I'm Seeking blue boxes unchecked if you wish to see who wants your property, then choose your property type and location in the I'm Offering box. Click Submit & Find matches on the left to begin searching.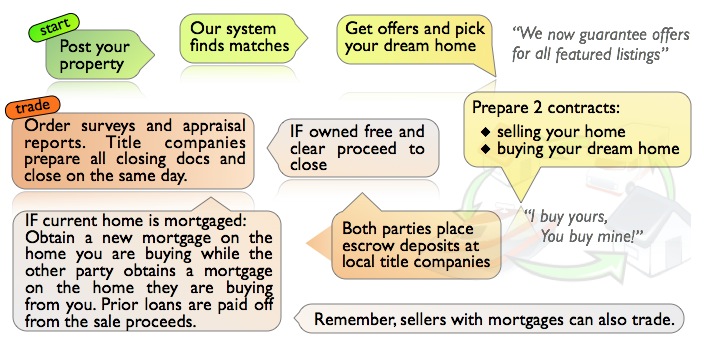 We have 7 guests and 381 members online