Welcome Domuswap.com user!
Domuswap has been acquired by GoSwap.org. Feel free to browse thousands of properties for trade. To post yours
please create an account
and submit basic ads for
FREE
. We are also offering 30% discounts on upgraded listings, simply enter discount code:
Domuswap
at checkout.
Latest Ads For Trade Worldwide:

Featured Trades


39ft Marinette ft aft cabin boat will swap for anything


Swap for: Any State




Seven lots in NE FL for trade for Your???


Swap for: Any State, California, Colorado, Florida, Georgia, Georgia, North Carolina, Oregon




Lovely pool home on cul de sac near Daytona Beach


Swap for: North Carolina, Pennsylvania, Tennessee, West Virginia




2.5 ACRE parcel of two lots in NE Florida


Swap for: Any State, Colorado




137 Acre Golf Course -Lease, Sale, or Trade + Cabin + Club House + 2 Bedroom Apt


Swap for: California, Colorado, Connecticut, Delaware, District of Columbia, Florida, Hawaii, Louisiana, Maine, Maryland, Massachusetts, Mississippi, New Hampshire, New Jersey, New York, Pennsylvania, Rhode Island, Vermont, Virginia, West Virginia





International

Curious Trades

UNIQUE trades Most WANTED trades Most RECENT trade offers Owned FREE & CLEAR OWNER FINANCED trades Traders who are UPSIZING Who CAN ADD CASH
Search by Listing ID
Find Trades
VIDEO: How to Permanently Trade Homes With Mortgages (2 min.)
Search our listings for trade:
Other Criteria?
Are you only looking for properties with this creteria?
Owned free & clear
With owner financing

...only from sellers who are:
Downsizing
Upsizing

Only looking for these types of properties?
Beach
Desert
Equestrian
Golf
Mountains
Rural
Urban
Waterfront
Waterview

Enter keywords to limit results.
Fewer options = more ads
All fields are optional, click "Find Matches" to begin search. Try quick search?
Choose property type and location then click find matches to view properties available for trade.
Leave options in the orange "I'm offering..." box blank IF you wish for the search results NOT to be constrained by the type of property you have.
Perform a 2-way search and view who has what you want and wants what you have
2-way search
My Residential

My Land

My Multifamily/Commercial

My Business

My Transportation

My Aircraft

My Sailboat

My Yacht

My Vacation or Timeshare


in My:
Leave the options in the I'm Seeking blue boxes unchecked if you wish to see who wants your property, then choose your property type and location in the I'm Offering box. Click Submit & Find matches on the left to begin searching.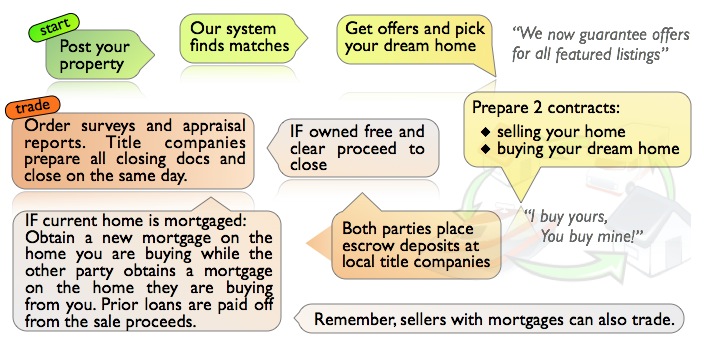 Welcome to GoSwap.org - where real estate is still hot
We currently have:
11 users online and...

1124 proposals sent in the last 30 days...

GoSwap! Get offers, have options!
Featured Swaps

House with $19,000 income and 6 blocks to beach
Swap for: California, Colorado, Florida

Self Sufficient Costa Rica Countryside Retreat with 55.000$ income!
Swap for: Any State

Bahamas Private Island for sale or trade - see YouTube video at bottom of page
Swap for:

Laurentian mountains lakeside home
Swap for: Aruba, Bahamas, Bermuda, Costa Rica, Florida, Greece, Spain, Thailand

LuxuryAssets.com domains portfolio
Swap for: Any State
| | |
| --- | --- |
| | |
We now offer free basic listings. Remember, we do not charge commission or any additional fees when you trade!
Below are 3 ways to submit listings (contact us with any questions):
1. Self-service plans:
Submit listing yourself and save $9:
Create a new listing (or assign your existing one) to any of the plans:
Register > Login > My Account > Add New Listing > Choose one of the plans > Submit.
Our self-service BASIC listing plans are FREE, pre-paid STANDARD listing plans start from $20 for a 2-month listing or $60 for a 1-year listing.
VIDEO: How to post...
2. Hand-held listing plans:
We create or transfer the ad for you:
We can transfer an existing listing from any other website. Order below and provide us a link, PDF, MS Word, or any other listing format and we will convert all data, create a new listing, and send you account info. This service includes a service charge of $9. Please choose and pay for a plan below, then
submit all listing materials here
or email to us after payment.
3. Listing by phone:
Have your listing details text and credit card ready. Our system will record your answers about the listing. We will notify you after the listing is posted. Pricing includes $9 charge and is the same as Hand-held plans (below).
Call: 877-481-5855
Read more...